We believe that architecture is most successful when it is able to connect people and spaces, our role is to build those connections.
We recognise that buildings are foremost about people and understand that our role as architects and designers is to design and deliver creative, stimulating spaces for people to thrive in and enjoy.
As an accredited RIBA practice, we are able to successfully demonstrate that our creative vision can co-exist with professional delivery and technical execution - resulting in award winning projects across all sectors.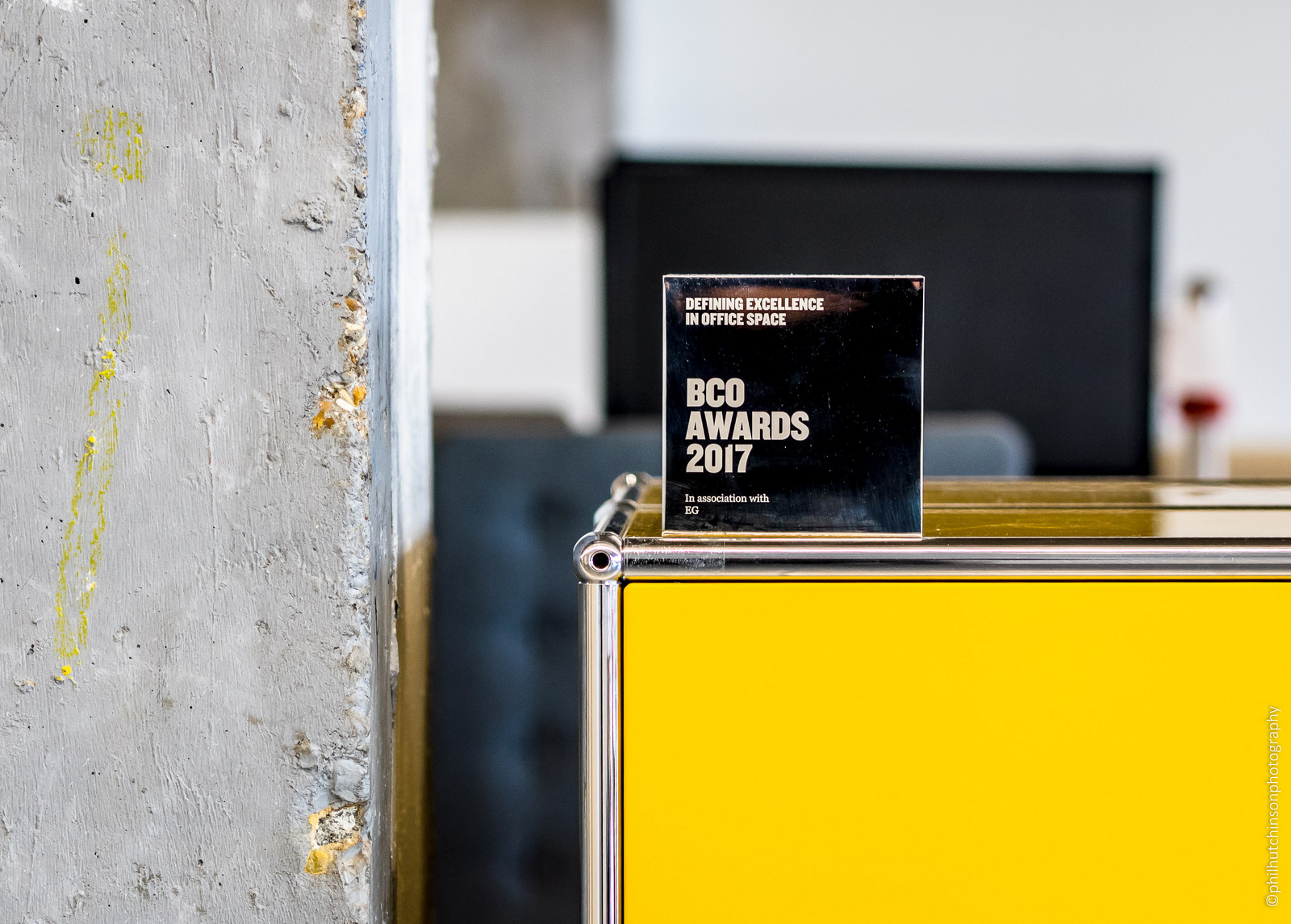 Recognition for our clients, and for our studio, is important. We participate regularly at industry events and panel discussions as thought leaders on emerging trends and topics within architecture and design.
Our work is often published as case studies on exemplar thinking and creativity regarding strategy and design within the workplace, and we have received numerous awards for our work including an unprecedented two BCO awards for "Innovation" in 2017 to add to our growing collection which included a "Best of the Best" on 2008.
Our process of analysing and understanding space, along with the requirements of the user means we bring together architectural, interior design and workplace expertise to provide a strategic and cohesive solution for all projects.
We work hard to ensure the right balance is achieved in delivering a stimulating and effective space for your business. Drawing on our wealth of experience across a wide range of projects, we specify the most appropriate materials and construction methods, with spending prioritised on the areas where it will have the biggest impact for the best value.
Our studio is BIM experienced, and we hold certification, independently assessed, for Quality Management (ISO 9000) and Environmental Management (ISO 14000).
Gill Parker - Chief Executive Officer
Gill leads the BDG team, constantly seeking new opportunities for growth whilst pursuing operational excellence.
Gill is responsible for CSR within the company, and recently served as a Director of Heart of City and Chair of Whitechapel Mission.
Her career in commercial design spans three decades, during which she has worked with a world class client portfolio of projects around the globe. During her tenure BDG has won numerous industry accolades including the prestigious BCO 'Best of the Best' award for PwC, and most recently two Innovation awards. Gill was also recipient of the Mixology Lifetime Achievement award for her contribution to the industry.
Colin Macgadie - Chief Creative Officer
Colin is the overall creative lead for BDG, responsible for creating world class environments for all BDG clients, regardless of size or sector.

His belief that architecture is most successful when people feel a connection to space is reflected in BDG's studio culture and evidence based design approach.

This unique understanding of workplace dynamics, and the impact of the built environment on people and behaviour, has helped deliver innovative solutions and cultural change for some of the worlds leading brands, resulting in an unprecedented two BCO Innovation Awards in 2017 for SKY and WPP.
Toby Neilson - Architecture Director
Toby is involved in leading the design and delivery on a number of our large scale, full building refurbishments in London, the UK and throughout mainland Europe.
Toby is actively involved in developing an internship programme at BDG with a number of Universities and Schools of Architecture. He has been a guest critic at The Bartlett School of Architecture, University or Norwich, University of Nottingham and University of Greenwich.
Phil Hutchinson - Strategy Director
Phil is an expert in workplace strategy and design. With more than 30 years experience of understanding of the world at work he remains continually intrigued and passionate about what makes business and people work well.
Phil concentrates his thinking on recognising the influencing factors that will genuinely impact the future of work and is a regular contributor at industry workshops, events, and talks.
Clive Hall - Technical Director
Clive is responsible for driving our sustainability and quality programmes, ISO14001 and BSEN ISO 9001. His extensive experience in project implementation and detailed understanding of technical delivery across different contract routes ensure that our design solutions are always compliant and thoroughly compliant.
Most recently, Clive lead the technical design for Sky which was awarded a BCO Innovation award.
Simon Moore - Finance Director
As Finance Director, Simon is responsible for all things related to numbers and money, and being responsible for the day-to-day operations has an input into the strategic direction of the business.
He is passionate about Sustainability and Wellbeing, and takes an active part in the studio commitments to the environment and health.
Tony Knight - Director
Known for this thorough and proactive approach to production design and reviewing the quality of work on site, Tony's experience ranges across building types and production programmes and is highly capable of delivering complex design solutions and packages to fast track programmes.
Matt Jackson - Director
Leading project teams from concept to completion Matt delivers complex work environments that support high levels of creativity and productivity.
Matt has more than 20 years experience working on significant large scale projects ranging law firms, financial service and most recently tech providers.
Lydia Randall - Director
Lydia manages some of our key Clients and leads our teams in delivering on their international property requirements. She consistently delivers excellence in supporting their real estate strategies.